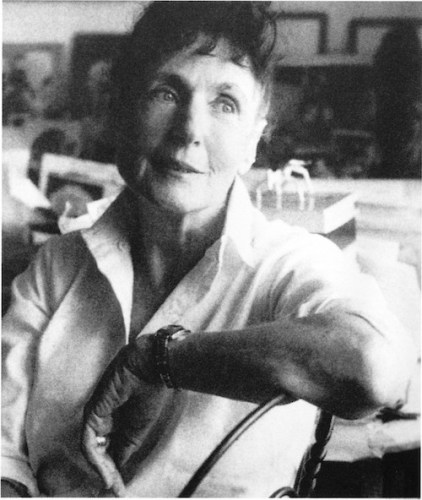 Yulla Lipchitz, née Halberstadt, was born on April 21, 1911 in Berlin, Germany. While growing up in a strict, Jewish Orthodox family, she was forbidden to study the arts by her father. Nonetheless, she managed to study sculpture at a local studio several times a week. She was encouraged to pursue her interests in mathematics and physics, and became deeply inspired in those fields after meeting Albert Einstein during her youth.

Lipchitz's first marriage was to a judge in Berlin, with whom she had two sons. In 1938 her husband's cousin helped the family to escape the escalating persecution in Nazi Germany and travel to the United States. After living in Cincinnati for several years, the couple separated in 1942. Seeking greater opportunities, Lipchitz moved with her son Frank to New York City. There, she found work with the American Jewish Congress. Several years later her friend Leib Jaffe, a poet and Zionist leader, introduced her to fellow refugee and sculptor Jacques Lipchitz. The two married the following year, and took up residence in a studio apartment on Washington Square South. They welcomed a daughter, Loyla, in 1948.

The family came to settle in Hastings-on-Hudson, and also maintained a home in Italy. While continuing to explore her interest in sculpture, Yulla Lipchitz dabbled in jewelry and costume making, and served as a host to friends such as artists Henry Moore, Marc Chagall, Pablo Picasso, and Alexander Calder. She joined her husband in collecting a vast array of antiques and art objects, with a particular interest in non-western art and artifacts. Much of their collection was displayed at The Museum of Primitive Art, New York City, in 1960.

After Jacques Lipchitz's death in 1973, Yulla Lipchitz renewed her passion for sculpting. In addition to her own artistic pursuits, she worked to complete several of her late husband's unfinished pieces. By 1979 Yulla Lipchitz's rededication to artmaking was interrupted by illness. Her doctors advised her against the strain of working with bronze, and the artist instead turned to photography. Her work was featured in numerous exhibitions, including showings at the Marlborough Gallery, Mendelson Gallery, and the Massachusetts Institute of Technology Museum. In both her sculpture and photography, Lipchitz explored the organic natural world, while maintaining her interest in abstraction.

Lipchitz expanded her involvement in the art world over the years. The Jacques and Yulla Lipchitz Foundation, established in the 1960s, produced numerous contributions to prominent museums. Yulla Lipchitz also became a committed supporter and Board member of the American Friends of the Israel Museum. In 1988 she received the Eugene McDermott Award at the Massachusetts Institute of Technology for "a major contribution to the arts as a means of human fulfillment." She died in 2003 at the age of 92, and was buried in Israel with her husband. In her roles as an artist, spouse, and philanthropist, Yulla Lipchitz expressed a unique dedication to twentieth century art.