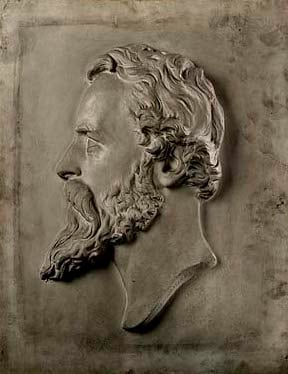 Sculptor William Henry Rinehart was born in Frederick, Maryland, in 1825 as the son of a well-to-do farmer. After revealing his affection for modeling, his father arranged for him to work in a quarry producing tombstones, window and doorsills, and mantelpieces. He then joined the largest Baltimore firm of stonecutters, and by the age of twenty-three was creating original works in a studio provided for him. Beyond acquiring on-the-job skills, Rinehart attended night classes with offerings in mythology, ancient history, anatomy, and the history of art. He began exhibiting busts for sale in 1853.
Rinehart met his greatest patron, William T. Walter, while repairing a mantle in his home. The wealthy merchant soon began commissioning sculptural works for him, and later helped arrange his travels abroad. Rinehart's first important commission in bronze came in 1865 as a monumental figure for the grave of Walters' wife. As his reputation grew, he received commissions for a bronze Native American figure for the fountain at the Post Office Department Building in Washington, as well as for bronze caryatid figures for a clock in the House of Representatives chamber. His statue of Chief Justice Taney for the state of Maryland was unveiled in Baltimore in 1872.
Much of Rinehart's life was spent in Italy, where he grew in prominence and influence as a sculptor. He became close to Augustus Saint-Gaudens, as well as various American sculptors based in Italy. Here, his work benefitted from lengthy studies of Classical antiquities at the Vatican galleries. Rinehart made brief returns to the United States in 1857, 1866, and 1872, and received steady commissions for portraits, though by the mid-1860s patrons were faced with a two- to three-year wait due to demand. He also hosted patrons in his Italian studio, which made for a fashionable stop for Americans during their Grand Tour of Europe.
Rinehart was distinguished for eschewing the Victorian sensibilities of his contemporaries in favor of the neoclassicism of Bertel Thorvaldsen. To this end, he persistently worked with classical modeling, poses, proportions, and subject matter. After his death in Rome in 1874, Rinehart was buried in Baltimore with a bronze copy of his Endymion statue marking his grave. He extended his legacy through the instructions of his will, which established the Rinehart Fund at the Peabody Institute. A scholarship was also created in his name to subsidize studies in Europe for young American sculptors.
Written by Zenobia Grant Wingate