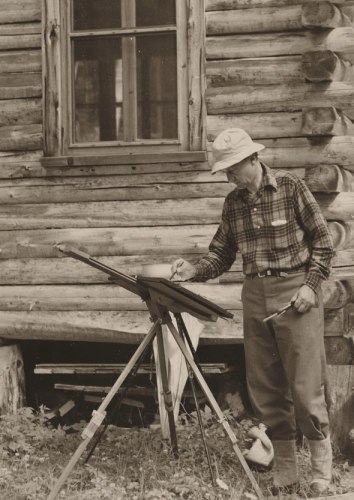 "The mood of the picture, that is the most important." [1]
Ogden Pleissner
Ogden Minton Pleissner was a twentieth century American artist known both for his fishing and hunting themed sporting pictures as well as his landscapes. The artist captured scenes across America, Europe, and Bermuda for fifty-seven years. At 27 Pleissner's painting Backyards, Brooklyn was purchased by the Metropolitan Museum of Art (Donovan 1995, 155) making him the youngest artist in their collection at the time. Born in Brooklyn, New York, Pleissner was raised in an artistically encouraging family. As a teenager, he spent his summers attending a camp in Dubois, Wyoming where he developed an appreciation for nature and the outdoors. He spent much of this time there engaged in outdoor sports such as fishing, but also set aside time for sketching many of the iconic images of the American West, including its landscapes, animals, Native Americans, and cowboys. Pleissner's love of nature and various sporting activities remained a constant presence in the paintings he produced throughout his artistic career.

Shortly after graduating from the Brooklyn Friends School, Pleissner attended the Art Students League of New York for four years. While attending a summer drawing class in Cape Breton, Nova Scotia with Frank DuMond, an instructor of painting at the Art Students League, Pleissner met his future wife Mary Harrison Corbett. During this trip Pleissner was also introduced to Atlantic salmon fishing, a sport that he and DuMond often engaged in. Mary shared Pleissner's love of the outdoors and accompanied him on several summer trips to Dubois, Wyoming where the couple stayed and worked on the C-M Ranch, run and operated by close friend Charlie Moore. Pleissner produced several landscape paintings of Wyoming throughout the 1930s and 40s.

Newly married, Pleissner struggled to find work after graduating from the Art Students League. Despite the financial constraints of the Great Depression combined with multiple rejections he received for illustrations he submitted to various publications, Pleissner still managed to gain critical national acclaim throughout the 1930s. After soliciting various New York galleries, Harlow MacDonald arranged to show one of Pleissner's paintings in his Fifth Avenue gallery. The painting sold the next day, and he continued to sell paintings through the gallery. The success at the MacDonald Gallery led to his first solo show at MacBeth Gallery in 1930. During this time, Pleissner also taught at Pratt Institute where he stayed until 1934. He continued to be represented by the Macbeth Gallery throughout the 1940s and 50s, alongside Andrew Wyeth. [2]

Pleissner prided himself as being an artist who never painted according to an exact formula. [3] Aside from the foundation he received from the Art Students League of NY, much of what he learned about painting resulted from his travels throughout the United States and Europe, where he spent much of his time painting landscapes simply for the joy of it. This approach is evident in the finished paintings, as they all lend the viewer a sort of "reflective pleasure," regardless of the subject matter. [4] The inclusion of small details rendered through expressive yet precise brushstrokes, lend a sort of depth that welcomes pleasurable contemplation from observers. His paintings are approachable and frequently regarded as soothing and inviting. Pleissner's ability to capture a unique, fleeting moment in time is always present. Sometimes it is seen in the subtle tug of the fishing line just before a fisherman catches a fish, or in a scatter of dry brush strokes that create shadows on the exterior of a New York apartment at a precise hour on a summer afternoon. This attention to detail speaks earnestly of Pleissner's infectious love for nature, particularly within the rural and urban landscapes of twentieth century America.

In addition to the major art museums in New York who took an interest in his art, the United States government also collected Pleissner's work. Army Air Force General Henry "Hap" Arnold, was a particular fan of the artist, and specifically sought out Pleissner for commission. After teaching at the National Academy School of Fine Arts in New York for several years, Pleissner was commissioned by the U.S. Office of Emergency Management to document the war efforts, specifically various war industries, in a series of paintings. In 1942, he joined the United States Air Force as an artist in the Historical Division, and in order to become certified as a Captain, underwent U.S. Army Air Forces officer training in Miami, Florida. Though he previously worked exclusively in oil paints, his ultimate assignment in the Aleutian Islands of Alaska forced him to change to watercolor. "With the little oil sketches, the darn things would stay wet all the time and make an awful mess to transport. I did so many watercolor sketches and paintings during the war because they were easier to carry around." [5] This marked a crucial turning point in his career, after which he continued to work in the medium of watercolor. Many of the paintings he created during this time later appeared in a solo exhibition at the Corcoran Gallery of Art in D.C. In 1944, Pleissner became a war correspondent in Europe for Life magazine. He spent two years documenting American war efforts throughout France, Belgium, Germany and Italy. Many of his wartime paintings now belong to the United States Army Art Collection decorating the interiors of the Pentagon, West Point, and the Air Force Academy.

After the war, Pleissner continued to travel Europe, documenting landscapes through painting, before eventually settling down first in Pawlet, Vermont and later in Manchester. After his wife Mary's death in 1974 and his remarriage to Marion Gould in 1977, he established a studio and home in Manchester where he continued to live and paint. Ogden M. Pleissner died on October 24, 1983 while on a trip to England. The artist's work remains in several permanent collections throughout the United States including The Metropolitan Museum of Art, The Brooklyn Museum, The Los Angeles County Museum of Art, and The Smithsonian American Art Museum. The Shelburne Museum in Vermont contains also features a recreated version of the artist's Manchester, Vermont studio containing many of his original materials. The Shelburne Museum also houses a permanent Pleissner Gallery in which a variety of the artist's works rotate throughout the year.
Written by Lauren A. Zelaya
Footnotes:
[1] Bergh, Peter. The Art of Ogden M. Pleissner. Boston: David R. Godine, Publisher, Inc., 1984, p.1.
[2] Doherty, M. Stephen. "Ogden M. Pleissner." American Artist 46, (Dec 1982): p.58.
[3] Ibid, p. 57
[4] Bergh, Peter. The Art of Ogden M. Pleissner. Boston: David R. Godine, Publisher, Inc., 1984, XV.
[5] Ibid, p. 34.
Chronology
1905 Ogden Pleissner born in Brooklyn, NY on the 29th of April
1922 Graduates from Brooklyn Friends School
1923-27 Attends Art Students League of NY
1929 Marries Mary Corbett of Portland, Oregon
1929-36 Establishes and works in studio at 186 Washington Park, Brooklyn
1930-34 Teaches at Pratt Institute
1930 First major solo exhibition entitled "Paintings of Wyoming Days and Nights" at Macbeth Gallery in New York
1932 Metropolitan Museum of Art purchases Backyards, Brooklyn (1932) painting of Brooklyn Heights
1935-36 Teaches at National Academy School of Fine Arts, NY (formerly known as the Academy of Design)
1936-1976 Establishes and works in studios on 10th and 67th Street, Manhattan
1937 Elected Associate at National Academy
1940 Elected Academician at National Academy
1942 Joins the Air Force, trains to become a Captain at the U.S. Army Air forces officer training school in Miami, Florida
1943 Member of the 8th, 9th, and 11th Air Forces stationed in Aleutians, England, and France
1944-1945 War correspondent for Life Magazine
1945-1983 Following World War II, travels throughout Europe and paints in England, Ireland, Scotland, France, Italy and Portugal
1947 Builds house and studio in Pawlet, Vermont
1974 Wife Mary dies of a heart attack
1977 Remarries to Marion Williams Gould
1977 Moves to Manchester, Vermont
1983 Dies in London on October 24th
Awards
1950 Medal of Honor, Audubon Artists
1954 Audubon Award for Watercolor
Joseph Pennell Medal, Philadelphia Watercolor Club
1956 Gold Medal, American Watercolor Society
1958 Medal of Honor for oil painting, Century Club
1959 Altman Prize, National Academy of Design
Samuel F.B. Morse Medal of Honor, National Academy of Design
1960 Medal of Honor for watercolor, Century Club
1961 Gold Medal, National Arts Club Altman Prize, National Academy of Design
1969 President's Prize, Audubon Artists
1972 Gold Medal for Oil Painting, National Arts Club
1974 Gold Medal of Honor, Knickerbocker Artists
Solo Exhibitions
Philadelphia Art Alliance
Corcoran Gallery of Art
New Britain Art Gallery
Century Association
Southern Vermont Artists
Hudson Valley Art Association
Deeley Gallery, Manchester, VT
Macbeth Gallery, New York City (4)
Milch Gallery, New York City (4)
Hirschl and Adler Galleries, New York City (3)
Group Exhibitions
1928-31 National Arts Club
1933 Macbeth Gallery, New York
1935 Doll and Richards, Boston Salmagundi Club
1936 Macbeth Gallery, New York
1937 Doll and Richards, Boston
1938 Salmagundi Club
1938-56 Whitney Museum of American Art
1939 Macbeth Gallery, New York
Grand Central Art Galleries, New York
1941 "An Exhibition of Contemporary Water Colors," The Metropolitan Museum of Art, New York
1943 Corcoran Gallery of Art, Washington, DC
1944 "American Air Forces Art Exhibit," The National Gallery of Art, Washington, DC
1947 "Significant War Scenes by Battlefront Artists," International Salon of the Chrysler Building, New York
1956 American Watercolor Society
1959 National Academy of Design
1984 Sportsman's Edge Gallery, New York
Memberships
Allied Artists of America
American Watercolor Society, Honorary Member
Art Students League
Baltimore Watercolor Club
Brooklyn Society of Artists
Connecticut Academy of Fine Arts, Honorary Member
Louis Comfort Tiffany Foundation, President and Director
National Academy of Design, Vice President
National Arts Club
National Museum of American Art, Honorary Member
National Society of Literature and Art
Philadelphia Watercolor Club
Royal Society of Art
Salmagundi Club
The Shelburne Museum, Trustee
Society of American Etchers
Southern Vermont Artists
Public Collections
Works by the artist may be found at the Smithsonian American Art Museum, National Museum of Wildlife Art, Brooklyn Museum, Los Angeles County Museum of Art, and at the Shelburne Museum in Vermont.
Bibliography
"Art: Patience & Firmness." Time Magazine, (November 23, 1953).
http://www.time.com/time/magazine/article/0,9171,860153,00.html

Peter Bergh. The Art of Ogden M. Pleissner. Boston: David R. Godine, Publisher, Inc., 1984.

M. Stephen Doherty. "Ogden M. Pleissner." American Artist 46, (Dec 1982): 56-59.

Margaret Donovan. "Ogden Pleissner: A Memorial Exhibition." American Art Review 7, no 4 (Aug- Sept 1995): 154-157.

Diane Casella Hines. "The Living Legends of American Watercolor." American Artist 47 (Feb 1983): 69.