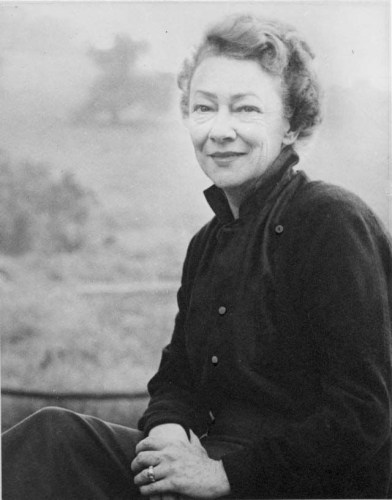 Surrealist artist Kay Sage was born in 1898 outside of Albany, New York. Her childhood was marked by frequent travel in Europe with her free-spirited mother, who divorced Sage's father in 1908. After a stint at the Corcoran Art School in Washington, D.C., Sage returned to Europe in 1920, studying painting and drawing at the British Academy and the Scuola Libera della Belle Arti in Rome. She was particularly influenced by time spent painting in the Roman Campagna with the artist's group led by Onorato Carlandi, where she was the only woman permitted to participate.

In 1925, Sage married an Italian nobleman, Prince Ranieri di San Faustino, and the obligations of her position in high society kept her from painting. A chance encounter with American poet Ezra Pound in 1933 led to a friendship with German sculptor Heinz Henghes, an associate of the Surrealists. Sage divorced her husband, and her new paintings turned abstract and experimental. She and Henghes exhibited work at the Galleria del Milione in Milan in 1936.
Following her move to Paris, Sage's work caught the attention of Yves Tanguy, and by extension Surrealist leader Andre Breton. She exhibited with the group at the Salon des Surindépendants in 1938. Sage and Tanguy traveled to the United States and were married in 1940. She became instrumental in facilitating travel to the United States for European artists during World War II.
Sage exhibited at the Pierre Matisse Gallery in 1940, and as part of the "Le Surrealisme en 1947" exhibition at the Galerie Maeght in Paris. A trip to Europe in 1953 coincided with showings of her work in Rome, Milan and Paris. She and Tanguy received a joint exhibition at the Wadsworth Atheneum Museum of Art in 1954. Their works were displayed in separate galleries, reflecting their wish to be considered independently.

Sage was particularly influenced by Giorgio di Chirico's use of tilted perspectives and arched doorways. She explored numerous architectural motifs in her work, including looming totemic structures and scaffolding. By placing large structures in the foreground of her work, Sage extended her paintings beyond their frame, immersing the viewer in her dreamlike environments.

Following Tanguy's death in 1955, her eyesight began to fail, and she turned towards creating collage reliefs. She also proceeded to publish four books of poetry before her death in 1963.

By Zenobia Grant Wingate