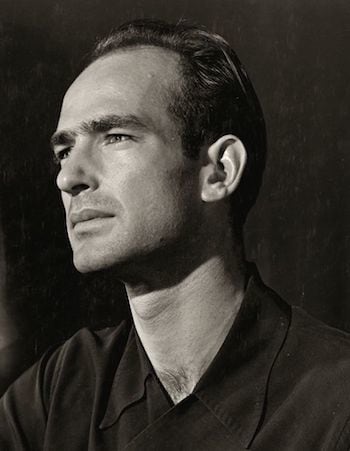 Sculptor Harry Bertoia was gifted with an engineer's sensibility and a drive for experimentation. He was committed to exploring qualities of movement, space, and sound through three-dimensional forms. With a deep sensitivity towards architecture, he designed numerous monumental works for public spaces. On a smaller scale, he produced series of bold forms that melded organic shapes with crisp design and hardy man-made materials.
Italian-born Bertoia immigrated to Detroit at the age of fifteen in 1930. He enrolled at Cass Technical High School to study various art forms. In 1936 a scholarship brought him to the Art School of the Detroit Society of Arts and Crafts, where he was taught by John Carroll and Sarkis Sarkisian. He then attended Cranbrook Academy of Art in Bloomfield, Michigan, through a scholarship awarded for metalcrafts. Cranbrook provided a profound sense of freedom to his artistic development, and brought the influence of visiting European artists such as Walter Gropius.
After completing his studies, Bertoia taught at Cranbrook in a newly formed department of metalworking, and pursued printing and sculpture in his off-hours. In 1943 nineteen of his monoprints were exhibited through the Solomon Guggenheim Foundation, among the works of Moholy-Nagy, Werner Drewes, and Charles Smith. He began to show frequently at the Nierendorf Gallery and enjoyed critical acclaim.
A classmate of Eero Saarinen and Charles Eames, Bertoia was also a distinguished chair designer. He worked at Knoll Associates, Inc., who counted Ludwig Mies van der Rohe and Isamu Noguchi among its associates. He became increasingly engrossed in producing sculpture, however, and began producing large-scale architectural works in 1953. For his stunning monumental sculptures, produced in close consult with architects across the country, he was awarded the Craftsmanship Medal of the American Institute of Architects in 1956.
Bertoia's smaller-scale works, meanwhile, were owned by artists including Max Bill and collectors such as Joseph H. Hirshorn. He made series of works evocative of bushes, dandelions, and other natural forms. He showed great sensitivity towards rhythm and explored qualities of tension and unity in spherical shapes. So great was his interest in the musical qualities of visual forms, he designed a series of tonal sculptures that produced sound in the wind or when touched. Bertoia was buried underneath one of his sculptural gongs after his death in 1978.
Written by Zenobia Grant Wingate