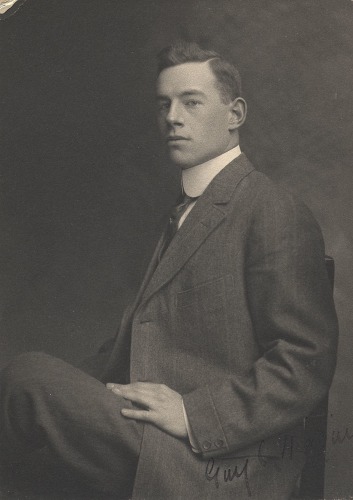 Guy Carleton Wiggins was born in Brooklyn, New York in 1883. He made his first foray into watercolors by the age of four. His father, a notable landscape painter from the American Barbizon tradition, served as his first teacher. Wiggins initially pursued architecture at Brooklyn Polytechnic Institute, then entered the National Academy of Design to study with William Merritt Chase and Robert Henri. He made numerous travels abroad, sketching and painting around France. Deeply influenced by the French Impressionists, the popularity of his work demonstrated the enduring importance of the style in the United States.
In 1912, the Metropolitan Museum of Art purchased the artist's Metropolitan Tower, making him one of the youngest artists to be represented in the collection. Wiggins settled in Lyme, Connecticut, and became known for his New England landscape paintings. Concurrently, he worked in temporary studios in New York City, where he favored snowy settings featuring Manhattan landmarks. He additionally traveled to Washington D.C., producing a painting of the Executive Mansion which was subsequently displayed in the office of President Dwight Eisenhower.
Wiggins was the recipient of many awards, among them an Honorable Mention from the Art Club of Philadelphia, the Harris Medal from the Art Institute of Chicago in 1918, and the Isadora Duncan Prize from the Salmagundi Club in 1919. He was elected as an Academician at the National Academy of Design in 1919. Wiggins was also highly involved with the Connecticut Academy of Fine Arts, and served as its president during the 1930s. He held memberships at the Salmagundi Club, Lotos Club, the Kit Kat Club, New Haven Paint & Clay Club, and the National Arts Club.
Through his teaching career, Wiggins developed a practice of lecturing on fine art by simultaneously addressing and painting for his audience. He debuted this style at the Twentieth Century Club of Detroit in 1925. After his move to Essex, Connecticut, he founded the Guy Wiggins Art School and the Essex Painters Society in 1937. He nevertheless continued to arrange painting trips for himself, including a venture to Montana. He spent his last days on vacation in St. Augustine, Florida, where he died in 1962. His rural and street scenes remain iconic images of the everyday in early twentieth-century America.
Written by Zenobia Grant Wingate