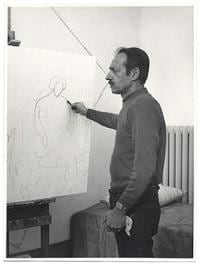 Born in Little Italy in 1907, Gregorio Prestopino first set out to become a sign painter as the son of New York City immigrants. Instead, his talent provided a life-changing scholarship to the National Academy of Design, and for five years he studied drawing under C. W. Hawthorne. He spent the summer of 1934 at the MacDowell Colony in Peterborough, New Hampshire. His deep involvement with the colony led him to later serve as its director in 1954.
Much of Prestopino's work was in the vein of social realism. During the 1940s and 1950s he became deeply invested in portraying everyday Manhattan and Harlem scenes. He first became interested in the Ashcan school at the National Academy of Design, and remained committed to an interest in working with urban scenes. His lively treatment of people and events revealed his affinity for sixteenth-century artist Pieter Breughel. Later in his career, he focused on producing images of nudes and picturesque New Hampshire landscapes, and investigated the relationship between color and form.
Prestopino exhibited at several biennials at the Corcoran Gallery, at the Art Institute of Chicago, the Museum of Modern Art. His work was frequently shown at the Pennsylvania Academy of Fine Arts, where he was awarded the Temple Gold Medal in 1946 and an additional prize in 1952. He was awarded a National Institute of Arts and Letter Grant in 1961, and in 1972 the National Academy of Design awarded him the Altman Figure Painting Award.
Prestopino's artistic cache skyrocketed when Life magazine published his images from New York's maximum security institution Green Haven as part of its "Prison Series" in 1957. That same year his paintings and sketches of urban life were featured in the short film Harlem Wednesday. Directed by John and Faith Hubley, the film included a jazz score from Benny Carter, and was the only prize-winning American entry to that year's Venice Film Festival.
Prestopino continued to pursue a long and vibrant career until his death in 1984. He undertook teaching stints at the Brooklyn Museum School from 1946 to 1951, and at the New School for Social Research from 1950 to 1967. He additionally taught at the University of Roosevelt, the Philadelphia Museum School of Art and as an artist-in-residence at Michigan State University.
Written by Zenobia Grant Wingate