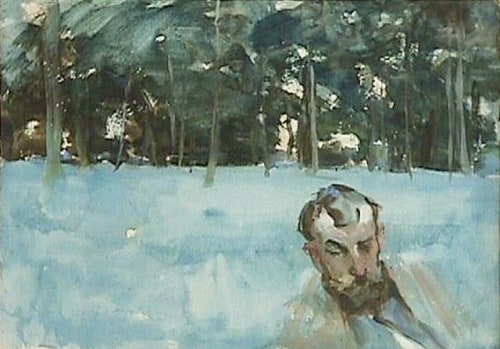 George Hitchcock pursued his artistic career in the Netherlands, expressing his love of the landscape through paintings of tulips and traditionally costumed figures. Known as the "Painter of Sunlight," he was dedicated to working outdoors. His paintings are delicately textured, and highlight his admiration for the natural beauty of his surroundings.

Hitchcock was born to a distinguished family in Rhode Island, a descendant of Roger Williams and the son of portrait painter Charles Hitchcock. He first set out to become a lawyer, attending Brown University and then Harvard Law School. After several years practicing law in New York, he turned to art and began producing watercolors. He established a studio in Chicago, but soon realized his deep desire for technical training.

In 1879 Hitchcock enrolled in Heatherley's School of Fine Art in London, and devoted time to drawing at the British Museum and National Gallery. He was particularly interested in the works of J. M. W. Turner and Botticelli. In 1882 he entered the Academie Julian in Paris, studying with Gustave Boulanger and Jules Lefebvre. Several summers were spent at The Hague, under the instruction of H. W. Mesdag, and additional study took place at the Düsseldorf Academy. Hitchcock set down roots in Egmond-aan-Zee in 1884, on the edge of the North Sea. Here he joined with fellow expatriate Gari Melchers to establish an art colony, and spent his summers teaching art there.
Hitchcock exhibited widely in the United States and in Europe. His paintings of tulips brought him attention and praise; he was also admired for his contemporary interpretations of religious subjects, which featured costumed Dutch peasants. He received major exhibitions at the New York Water Color Society in 1881 and the National Academy of Design in 1885. A work featured in the Champs Élysées Salon of 1887 received an honorable mention, followed by numerous gold medals awarded on both sides of the Atlantic.

Hitchcock enjoyed a brief trip back to America in 1905, exhibiting work in New York, Providence, and Detroit. In 1909 he was made an associate member of the National Academy of Design. Particularly revered in Europe, he became the sole American bestowed the honor of joining the Order of Franz Josef, as well as the first American to be made a member of the Akademie der Bildenden Künste in Vienna. Hitchcock was also a chevalier of the Légion d'honneur. A highly accomplished painter of simple, rural living, he died on his houseboat off the coast of North Holland in 1913.

Written by Zenobia Grant Wingate