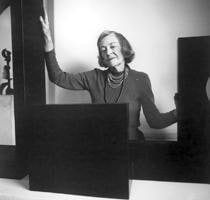 Dorothy Dehner produced sculptures and works on paper that investigated natural forms. Her use of lost-wax casting techniques was unique among the artists of her time, most of whom favored direct metal constructions. Her Abstract Expressionist works are often evocative of landscapes, and remain holistic and deeply grounded in reality.
Born in Cleveland, Ohio, in 1901, Dehner moved to Pasadena, California in 1915. By the age of sixteen both her parents had died, and she studied drawing while living with her aunt. After studying theatre at the University of California, Los Angeles, and at the American Academy of Dramatic Arts in New York, she took an extensive trip to Italy, Switzerland, and Paris in 1925. Now enamored of the modern art of the Fauves and Cubists, she enrolled in the Art Students League in New York to study with Jan Matulka, Kimon Nicolaides, Kenneth Hayes Miller, and John Graham.
Dehner married famed sculptor David Smith in 1927, and the two traveled to Paris, Brussels, London, Greece, and the Soviet Union during the 1930s. She was inspired by the skeleton of a prehistoric bird at the American Museum of Natural History, and later created drawings based on microscopic organisms. Later, these images evolved into an exploration of biomorphic forms.
Amid her divorce from Smith in 1952, Dehner held her first solo exhibition of watercolors at the Rose Fried Gallery. She taught at the Barnard School for Girls in New York City, and simultaneously studied engraving at Stanley William Hayter's Atelier 17. The Willard Gallery began representing her in 1955, as she shifted to focus solely on sculpture. Her work was shown widely in numerous group and solo exhibitions. Dehner was elected to the Federation of Modern Painters and Sculptors, and joined the Sculptors Guild. She received a Yaddo Foundation fellowship in 1970.
In the 1970s and 1980s, Dehner shifted from her work in bronze to experimenting with wood and Corten steel. She received a Lifetime Achievement Award from the Women's Caucus for Art in New York in 1983, and was honored at the National Sculpture Conference: Works by Women, held in 1987. Dehner also became a writer of note, publishing poetry and articles on figures of the New York art world. She died in New York in 1994, and was honored with a retrospective exhibition at the Cleveland Museum of Art in 1995.
Written by Zenobia Grant Wingate