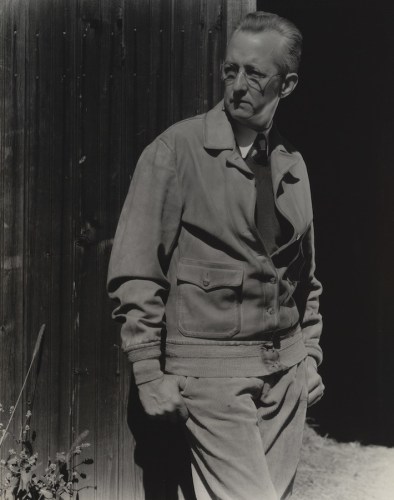 Charles Sheeler was born in Philadelphia in 1883. As a student he studied drawing and painting at the School of Industrial Art then attended the prestigious Pennsylvania Academy of Fine Arts. While at the Academy Sheeler studied under William Merritt Chase; the pair also traveled to Europe together. However, it was Sheeler's extended trip to Europe with fellow Academy classmate and roommate, Morton Schamberg in 1908 and 1909 that catapulted Sheeler into the world of modern art. The techniques promoted by such revolutionary artists of the time such as Paul Cezanne and Marcel Duchamp were deeply influential on him. Upon learning that his favorite pupil had turned away from the traditions of Impressionism in order to pursue Cubism, Dadaism, and Fauvism, Chase ended their friendship. Ultimately it would be Sheeler's self-described Precisionist style that would characterize his aesthetic pragmatism.

Whether caught on film or expressed on canvas, sharply focused lines, abstract representations of space, and flat color palettes epitomized Sheeler's signature style. By 1912, in addition to relying on photography for a consistent income, Sheeler found that his experimentation in photography took his painting to new heights. By 1917, Sheeler had established himself as a unique and cutting-edge artist, counted among the ranks of Charles Demuth, Joseph Stella, Georgia O'Keeffe, and Louis Lozowick. His experience collaborating with Paul Strand on the motion picture Manhatta also greatly influenced his approach to visual composition in painting and photography.

Sheeler concentrated on rendering the impact of industry, and the utility of effective design. He embraced the principles of Pennsylvania Shaker cultural values and aestheticism, which were in keeping with his determination to achieve precision and simplification in his own artwork. He continued to paint and photograph until he suffered a debilitating stroke in 1959, after which, he only exhibited work. He passed away in 1965 at his home in Dobbs Ferry, New York.

Charles Sheeler played a major role in the development of modernism in America. His dedication to the principles of Precisionism in both his painting and photography provided new, alternative, and sometimes challenging perspectives of the fast-paced, always self-improving American Way.

Written by Hali Thurber
Chronology
1883 Charles Sheeler born on July 16th in Philadelphia, PA to Charles and Mary Sheeler
1990-03 Studies at The School of Industrial Art in Philadelphia
1903-06 Studies at the Pennsylvania Academy of the Fine Arts under William M. Chase
1904 Class trip with Chase to London and Holland
1905 Class trip with Chase to Spain
1908-09 Shares studio space in Philadelphia with Morton Schamberg
Travels to Europe with parents and Schamberg
1911 Begins a correspondence with Alfred Stieglitz
1912 Photography became means of livelihood
1916 Assistant at Marius de Zayas's Modern Gallery, New York
1918 Schamberg dies, October 13th
1919 Moves to New York
1920 Collaborates with Paul Strand on Motion Picture, Manhatta
1921 Marries Katherine Baird Shafer, April 7th
1922 Meets Edward Weston
1923 Breaks with Stieglitz
1925 Essay on Greek art published in Arts magazine in March
1926-29 Works for Condé Nast Publications
Moves to South Salem, New York, but maintains studio in New York City
1927 Hired by N.W. Ayer and Son, Sheeler spends six weeks in Detroit making a series of photographs and paintings of Ford Motor Company's River Rouge Plant
1929 Last trip to Europe
1931 First of many solo exhibitions at Edith Halpert's Downtown Gallery
1932 Moves from South Salem, NY to Ridgefield, CT
1933 Wife, Katherine, dies
1939 Marries Musya Metas Sokolova on April 2nd
"Power" series of paintings commissioned by Fortune
1942-45 Begins Senior Research Fellowship in Photography at the Metropolitan Museum of Art
1946 Artist in Residence at Phillips Academy, Andover, MA
1948 Artist in Residence, Currier Gallery of Art, Manchester, NH
1954 Retrospective exhibition of paintings, drawings, and photographs at UCLA
Visits Ansel Adams in San Francisco and Weston in Carmel
1956 Visits Ansel Adams in San Francisco and Weston in Carmel
Travels to Yosemite, Sequoia national parks, Utah, Colorado Rockies
1958 Revisits Colonial Williamsburg
Travels to Jamestown and Yorktown
1959 Suffers stroke
1962 Receives Awards of Merit Medal for Painting from the American Academy of Arts and Letters
1963 Elected to membership in National Institute of Arts and Letters
Retrospective exhibition at university of Iowa Art galleries, Iowa City
1965 Sheeler dies on May 7th in his home in Dobbs Ferry, New York
Awards
1918 Wins first and fourth prizes in 13th John Wanamaker photography exhibition
1942 Senior Research Fellowship in Photography at the Metropolitan Museum of Art
1945 Norman White Harris Prize, Chicago Art Institute
1946 Artist in Residence at Phillips Academy, Andover, MA
1948 Artist in Residence, Currier Gallery of Art, Manchester, NH
1962 Award of Merit for Painting from the American Academy of Arts and Letters
Solo Exhibitions
1908 McClees Gallery, Philadelphia
Five paintings, William Macbeth Gallery, New York
1913 Armory Show, New York
1918 Photographs of African masks
1920 Paintings and photographs, De Zayas Gallery, New York
1922 Paintings, drawings, and photographs, Daniel Gallery, New York
1924 Whitney Studio, New York
1926 Photographs, Art Center, New York
1931 First solo exhibition at Edith Halpert's Downtown Gallery, New York Photographs, inaugural show at Julien Levy Gallery
1932 Arts Club, Chicago
1934 Fogg Art Museum, Harvard University, Cambridge, MA
1939 Paintings, drawings, and photographs, Museum of Modern Art, Retrospective
1940 Downtown Gallery, New York
1944 Dayton Art institute
1946 Downtown Gallery, New York
1947 Addison Gallery of American Art, Andover, MA
1948 Currier Gallery of Art
1949 Downtown Gallery, New York
1951 Downtown Gallery, New York
1952 Walker Art Center, Minneapolis
1954 Paintings, drawings, and photographs, UCLA, Los Angeles, Retrospective
1961 Allentown Art Museum, PA, Retrospective
1963 University of Iowa Art Galleries, Iowa City, Retrospective
Group Exhibitions
1915-17 Montrose Gallery, New York
1917 Photographs, exhibited with Morton Schamberg and Paul Strand at Marius de Zayas's Modern Gallery
1926 Two-man exhibition with Louis Lozowick, J.B. Neuman's Print Room, New York
1935 Two-man exhibition with Charles Burchfield, Society of Arts and Crafts, Detroit
1950 Two-man exhibition with Arthur Dove, Contemporary Arts Association, Houston
Memberships
1963 Elected as a member of the National Institute of Arts and Letters
Public Collections
Works by the artist may be found at the Museum of Modern Art, Whitney Museum of American Art, Hirshorn, Museum of Fine Arts Boston, Daytona Art Institute, Somumbus Museum of Art, Smith College Museum of Art, and National Gallery of Art.
Bibliography
Essays by Martin Friedman, Bartlett Hayes, and Charles Millard. Charles Sheeler. The National Collection of Fine Arts by the Smithsonian Institution Press, 1968.
Carol Troyen and Erica E. Hirshler. Charles Sheeler: Paintings and Drawings. New York Graphic Society, 1987.
Frederick Stalknecht Wight. Charles Sheeler; A Retrospective Exhibition. Art Galleries, University of California, Los Angeles, 1954.
John P. Driscoll. Charles Sheeler: The Works on Paper. Museum of Art, The Pennsylvania State University, 1974.
Charles Sheeler (1883-1965). AskArt: The Artists' Blue Book.
Charles Sheeler. National Gallery of Art, 2012.