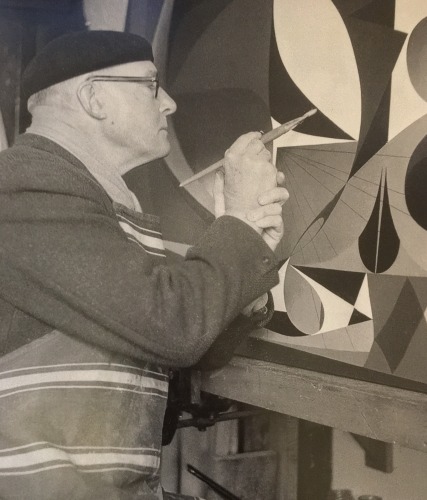 Charles Houghton Howard was one of the vanguards of American artists who introduced European surrealism and biomorphic expressionism into the U.S. art world. His work is not only a surrealistic representation of the mind's journey into the unconscious, but also an exploration of the sensing and feeling of self. Born on January 2, 1899 in Montclair, New Jersey, Howard was the third son of a prominent family of architects, painters, and sculptors. When he was three his father, a successful architect in New York, moved the family to Berkeley, California, where he had been appointed supervising architect at the University of California. After graduating from Berkeley High School, Howard enrolled in the University of California and immediately joined the S. A. T. C. (Students' Army Training Corps), with which he served until the WWI armistice in 1918. He re-entered the University of California in 1919 focusing on journalism. With hopes of one day being a writer, Howard continued his education with graduate studies in Journalism and English on the East Coast.

Determined to utilize his education in writing, Howard moved to Paris, where many American expatriates gathered to practice their art. Howard flung himself into that atmosphere and met painter Grant Wood, who "preached" the superiority of painting over words to Howard during their summer-long tour in Italy. This experience, coupled with Howard's self-proclaimed life-altering encounter with a Giorgione altarpiece in Venice, encouraged him to return to New York City and begin painting.

Howard had no formal training in art he simply began to draw and paint, learning the basic techniques as a journeyman painter in the New York studios of Louis Bouche and Rudolph Guertler. Living in Greenwich Village, Howard spent his spare time creating satirical literary sketches which became the subject of his first one-man show at Whitney Studio Club in 1926. Later his work was included in the landmark exhibition by the influential art dealer Julien Levy that introduced European surrealism to the United States. There were only two other Americans in the show, Man Ray and Joseph Cornell.

In 1934 Howard married British painter Madge Knight and moved to London, England. Prior to the outbreak of WWII London was a center for all types of international avant-garde artists. Howard soon became involved in London's advanced artistic circles, and shortly after his arrival assisted the painter Edward Wadsworth on a mural for the De La Warr Pavilion at Bexhill. Through Wadsworth, Howard became associated with Unit One, a vanguard group of painters, sculptors, and architects influenced by tenets of Surrealism and Constructivism. Active with the English Surrealists, Howard participated in the International Surrealist Exhibition held at the New Burlington Galleries and later had a solo exhibition at the Guggenheim-Jeune Gallery in London. It was during this time that Howard developed the equilibrium that characterized his art as "a balance between reasoned construction and free intuition." [1]

With the outbreak of World War II, Howard and Knight moved back to the family compound in the Bay Area, which had become a wartime oasis for the international avant-garde. Howard became an important catalyst for art in the region, introducing European abstract surrealist expressionist approaches to the local artists. He was very influential in the art community, acting as designing supervisor of the Works Progress Administration and lecturing on surrealism in a series with Salvador Dali, Man Ray, and the poet Georges Lemaitre at the California School of Fine Arts in 1945.

During his stay in the Bay Area from 1940 to 1946, Howard's art gained national recognition. His paintings were included in Dorothy Miller's show Americans 1942: Eighteen Artists from nine States at the Museum of Modern Art in New York and Peggy Guggenheim's inaugural exhibition at her Art of This Century Gallery that same year. Grace McCann Morley, director of the San Francisco Museum of Art, and Douglas MacAgy, director of the California School of Fine Arts, were also major supporters of Howard's work through various exhibitions and writings. MacAgy's wife, Jermayne MacAgy, organized Howard's 1946 retrospective at the California Palace of the Legion of Honor, where she was the acting director. During this time Howard's art gained great support from prominent figures in the art world.

While in San Francisco Howard made an artistic transformation. While working in a shipyard during the war, Howard was greatly influenced by the streamlined forms of the Victory ships and the shapes of twisted metal. At the same time Howard began delving into books on biology. The result of this convergence could be seen as his work began to integrate the metallic with the biological. His creations were noted to have a calm and cerebral beauty that appeared to be spiritually allied with the work of Marcel Duchamp and Francis Picabia.

In 1946 Howard moved back to England and settled in Helions Bumpstead, Suffolk, where he continued his art creations and began to develop an austere minimalism, using primarily black, white, and gray paints. He continued to exhibit widely while teaching at the Camberwell School of Arts & Crafts in London. After six years of teaching, Howard retired and moved to Bagni di Lucca, Italy, where he died on November 11th 1978. As an artist Howard earned his place in American art history from his biological machinery abstractions and biomorphic paintings. He will also be remembered for helping to introduce European surrealism into the United States.
Written by Yingxi Gong
[1] Basil Taylor, introduction to Charles Howard, exh. cat. (London: Whitechapel Art Gallery, 1956), p. 9.
Chronology
1880 Born on January 2nd in Montclair, New Jersey
1902 Moved to Berkeley, California
1917 Graduated from Berkeley High School
Enrolled in the University of California
1917-18 Joined the Students' Army Training Corps
1919 Re-entered the University of California
1920 Went to Paris again for post-graduation summer
1921 Sailed on freighter bound for New York via the Panama Canal
1922 Graduated from UC Berkeley with BA degree in Journalism
1923 Pursued MA degree in English at Harvard and Columbia
1923 Spent a post-graduation summer abroad in Europe
1924 Met artist Grant Wood in Italy (summer)
1924 Moved back to New York to pursue art
Employed by Louis Bouche and Rudolph Guertler as a mural painter at their decorating firm
1933 Married to Madge Knight and moved to London, England
1936 Returned to America and attended the Artists' Congress in NYC
1941 Moved back to the San Francisco in the U.S. because of the WW II
1945 Taught at the California School of Fine Art, San Francisco
1946 Moved back to England and settled in Helions Bumpstead, Suffolk
1959-65 Taught at the Camberwell School of Arts & Crafts, London
1970 Moved to Italy
1978 Died on November 11th in Bagni di Lucca, Italy
Awards
1940 Prize at San Francisco Museum of Art
1942 Prize at Metropolitan Museum of Art (American Artists for Victory)
1946 Prize at Pasadena Art Institute
Solo Exhibitions
1926 Whitney Studio Club, New York
1932 Julien Levy Gallery, NYC
1935 Bloomsbury Gallery, London
1939 Guggenheim-Jeune Gallery, London
1941-42 San Francisco Museum of Art
1946 Karl Nierendorf Gallery, New York
1946, 53 California Palace of the Legion of Honor, San Francisco
1953 Santa Barbara Museum of Art, California
1956 Retrospective at Whitechapel A. Gallery, London
1963 McRoberts & Tunnard Ltd., London
Group Exhibitions
1932 Art Center, San Francisco
1933 Salons of America/American, NYC
1936 New Burlington Gallery, London, International Surrealist Exhibition
1936-48 San Francisco Art Association
1937-40 San Francisco Museum of Art
1938 Sao Paulo, Brazil
1941 Carnegie Institute, Pittsburgh, Pennsylvania
1942 Metropolitan Museum of Art, New York, Artists for Victory Exhibition
1942 Museum of Modern Art, New York, Americans 1942 Exhibition
1942 Art of This Century gallery, Peggy Guggenheim's inaugural exhibition
1943-46 Whitney Museum of American Art, NYC
1943-48 Corcoran Gallery biennials (twice)
1945 Critic's Choice, Cincinnati
1946 Pasadena Art Institute, California, Exhibition of Contemporary Art
1947 Art Institute of Chicago, Abstract and Surrealist American Art
1951 Museum of Modern Art, New York, Abstract Painting and Sculpture in America
1958 St. George's Gallery, London
1964 McRoberts & Tunnard, London
1973 The Oakland Museum, A period of Exploration
1976-77 San Francisco Museum of Modern Art and National Collection of Fine Arts, Washington, D.C.
1998 Hirschl & Adler Gallery, NYC
Memberships
San Francisco Association of Art
Woodstock Association of Art
Public Collections
Works by the artist may be found at the Metropolitan Museum of Art, Los Angeles County Museum of Art, San Francisco Museum of Modern Art and the Art Institute of Chicago.
Bibliography
Peter Hastings Falk (Editor). Who Was Who in American Art 1564-1975: 400 years of Artists in America, Volume II. Madison, CT: Sound View Press, 1999.

Gene Hailey, California Art Research Project, Volume 17. San Francisco, 1936

Christina Orr-Cahall (Editor). The Art of California.: Selected Works from the Collection of the Oakland Museum. The Oakland Museum, 1984. (p122)

Susan Ehrlich (Editor). Pacific Dreams: Currents of Surrealism and Fantasy in Califrnia Art, 1934-1957. Los Angeles: UCLA, 1995. (p120)

Douglas Dreishpoon (Intro). Charles Howard 1899-1978: Drama of the Mind. New York: Hirschl & Adler Galleries (1993)
Paul J. Karlstrom (Editor). On the Edge of America: California Modernist Art, 1900-1950. Berkeley: University of California Press (1996).