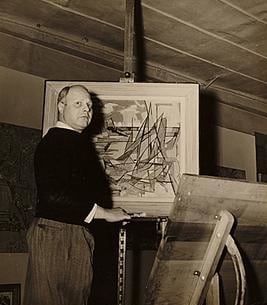 Carl Holty was awakened to his interest in art as a child through visits to the Layton Art Gallery of Milwaukee, and began painting lessons with Friedrich Wilhelm Heine at a young age. Though born in Freiburg, Germany, in 1900, he was raised in Wisconsin and enrolled at Marquette University. Before long, Holty abandoned his pre-medical studies in order to pursue art. He spent a summer at the School of the Chicago Art Institute in Saugatuck, Michigan, and set off for New York in 1920. He then studied at the National Academy of Design under Francis Coates Jones.

Holty continued his studies abroad, and at the recommendation of friend Vaclav Vytlacil enrolled at the Munich Academy with Hans Hofmann. Hofmann was a major influence, and encouraged Holty's life-long curiosity in abstraction. Holty moved to Paris in 1930, and became close to Piet Mondrian, whose work he greatly admired. He also was drawn to the flattened imagery explored by cubists Juan Gris and Roger de la Fresnaye. Robert Delaunay nominated him to become the second American member of the Abstraction-Creation artist group, following Alexander Calder.
Upon his return to New York in 1936, Holty was part of a group of modern artists that included Joan Miro, Edvard Munch, Gino Severini, and Brassai. Critic Harold Rosenberg championed his work, and Holty became a founding member of the American Abstract Artists group, serving as their second chairman. He also lectured widely, with numerous artist-in-resident positions. At the American Artists' School in New York, Ad Reinhardt was among his students. He became a Professor Emeritus at Brooklyn College, after entering the art department there in 1964. His talents also extended to the written word, completing a brief memoir of Mondrian and discussions of painterly creativity. Together with Romare Bearden, he published "The Painter's Mind."

Holty exhibited consistently until his death in 1973, including numerous showings at the Whitney Museum of American Art. His work underwent many stylistic shifts over the years, though he maintained a vibrant and arresting color palette. In the 1940s he became more interested in biomorphic shapes alike to Joan Miró's, transforming the aims of his rhythmic compositions. His abstract creations maintained references to the natural world, with titles alluding to the influence of reality. With his many experimentations and shifts in technique, Holty demonstrated a belief in the pliability of modern art to suit many types of visual expression.

Written by Zenobia Grant Wingate
Chronology
1900 Born June 12 in Freilburg, Germany
Moves with family to Milwaukee
1919 Studies at the Art Institute of Chicago, Illinois
1920-1921 Studies at the National Academy of Design and Parsons School of Design
1923 Returns to Milwaukee to paint commercial portraiture
1926 Moves to Munich, Germany to study at the Royal Academy
Meets Vaclav Vytlacil, and together they enroll at Hans Hofmann School
1926-1935 Travels to Germany, Switzerland, France, North Africa and Hungary
1927 Moves to Switzerland due to wife's worsening health
1932 Returns to Paris after his wife's death
Joins Abstract-Creation group
1935 Moves to New York City
1936 Helps establish American Abstract Artists Group
1939 Teaches at the Art Students League, New York
1948-1950 Artist-in-Residence at the University of Georgia, Athens
1950 Teaches at the Art Students League, New York
1950-1952 Professor of fine arts at Washington University, St. Louis, MI
1951 Summer residency at the University of California, Berkeley
1955-1959 Joins fine arts faculty at Brooklyn College, New York
1961 Summer Artist-in-Residence at the University of Wisconsin-Milwaukee
1969 Co-authors The Painter's Mind with Romare Bearden
1970 Becomes a professor of the Emeritus of Brooklyn College, New York
1973 Dies on March 22nd in New York
Solo Exhibitions
1927 Simonson Galerie, Paris, France
1937 New Art Circle, New York
1940 World's Fair, New York
1943 Nierdendorf Gallery, New York
1944 San Francisco Art Museum
Seattle Art Museum
1946 Carnegie Institute of Pittsburgh
1948 Carnegie Institute of Pittsburgh, Pittsburgh
Samuel Kootz Gallery, New York
1953 J.B. Neumann, New Art Circle, New York
1956 Graham Gallery, New York
1969 Georgia State University, Atlanta
1972 The City University of New York
1973 Andrew Crispo Gallery, New York
Group Exibitions
1926 Milwaukee Art Institute Wisconsin Painters and Sculptors
1944 New Art Circle, New York, NY Abstract and Surrealist Art in America
1945 Whitney Museum of American Art ('57, '59,'62, '65, '69)
1950 Metropolitan Museum of Art American Painting Today
1951 Museum of Modern Art Abstract Painting and Sculpture in America
1963 Krannert Art Museum, University of Illinois, IL
Public Collections
Works by the artist may be found at the Addison Gallery of American Art at Phillips Academy and the Smithsonian American Art Museum.
Bibliography
Oral history interview with Carl Holty, 1964 December 8, Archives of American Art, Smithsonian Institution
American Abstract Art of the 1930s and 1940s. The J. Donald Nichols Collection, Wake Forrest University. Winston-Salem, North Carolina. Harry N. Abrams, Inc.

Virginia M. Mecklenburg. The Patricia and Phillip Frost Collection American Abstraction 1930-1945. National Museum of American Art. Smithsonian Institution Press. 1989. pp. 112-114.

Susan E. Strickler and Elaine D. Gustafson. The Second Wave: American Abstraction from the 1930s and 1940s. Selections from the Penny and Elton Yasuna Collection. Worcester Art Museum.

New York Times. Carl Holty Dies; Abstract Painter. March 24, 1973.
Smithsonian Archives of American Art